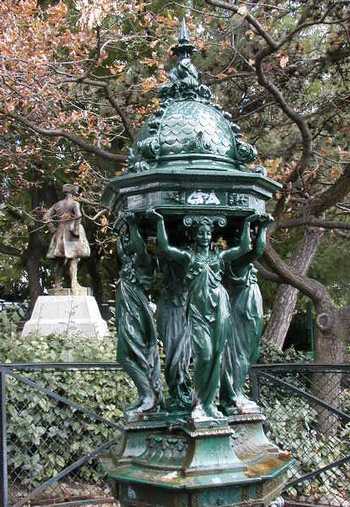 One of the lovely Wallace Fountains, this one on Montmartre, near Sacre Coeur.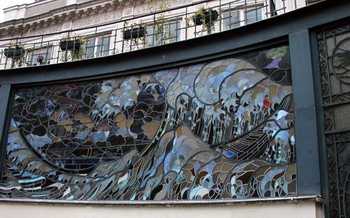 Stained glass on rue Victor Masse in the 9th arrondissement.
To the right of this window is Avenue Frochot, which is not an avenue at all. It is a private, gated, charming street. According to someone's web page on wanadoo.fr, Victor Hugo once lived here, at number 5 Avenue Frochot. That web page has more photos of the private street.
Just because I haven't yet mentioned Hurricane Charley doesn't mean that it isn't scaring the wits out of us. Alas, we won't know much about the extent of the damage until tomorrow, so life in Paris goes on. At least for now. A comforting thought is that this is Friday the 13th, and I generally have always had good Fridays the 13th.
On that day that we went to Montmartre, we decided to walk much of the way home. Part of that long walk included the Rue Victor Masse. We were delighted to find that this street contains store after store loaded with musical instruments. While most shops focus on the guitar, we did see a couple of drum stores. Tom went into one of them and browsed a bit. I think he misses his drums. Due to Charley, we may have to buy Tom a new set of drums this fall.
Tom kept encouraging me to go in some shops and ask about harmonicas. I decided to wait until we get to Germany, home of Hohner harmonicas. I have been practicing the harmonica just about every evening. While I am improving, I don't think I'm ready to perform in the metro stations yet. When I am ready to perform publicly, my stage name should be "Toots" Cooley, Tom says. We have a high regard for Toots Thieleman, the master of the harmonica. He's French, you know.
----
Le Tire Bouchon (rue des Entrepreneurs, 15th) remains our favorite resto in Paris. Isabelle Houry greeted us the other night as warmly as is humanly and politely possible. The food was wonderful. The dessert (included in the 20 euro fixed price meal) was divine -- dark cherries in a rich sauch with a dark chocolate chantilly cream and a slab of dark chocolate tossed on top.
----
Le Bayadere (rue du Theatre, 15th) is also a top choice. A bit more informal, its menu is a little more flexible than the more traditional places. The service is friendly and professional. And the food, southern French, is delicious.
----