<![if !vml]>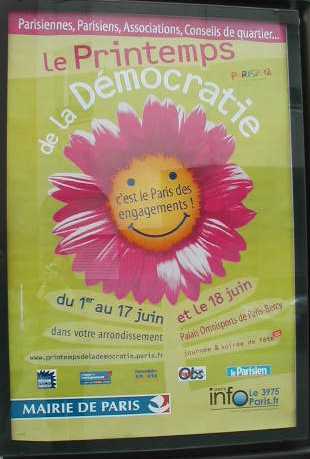 <![endif]>
<![if !vml]>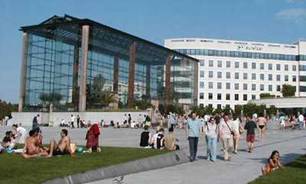 <![endif]>
Parc Andre Citroen last Saturday.  That is a large, modern but un-air conditioned hospital in the background.  The temperature outside was about 84 degrees F.
<![if !vml]>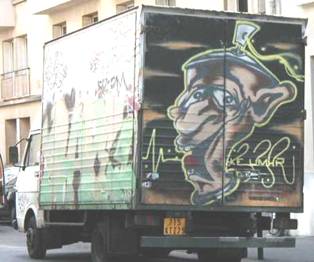 <![endif]>
<![if !vml]>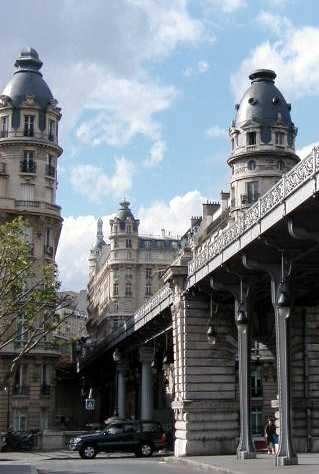 <![endif]>
A view of apartment "towers" at Passy, in the 16th arrondissement.
I noticed this billboard (at left) the other day and decided to take a photo so that I could puzzle out its meaning later.  Then yesterday we were given a free newspaper and some fliers as we exited the metro at Charles Michels after socializing at Café Metropole. 
The newspaper had an article about this Spring of Democracy thing.  So I read it aloud to Tom, translating as I went.  It seems to be about promoting and celebrating citizen activism – something near and very dear to my heart.  But the language construction was so weird in that article that I wasn't sure whether I was really fully understanding what this Spring of Democracy thing is about.  So today I Googled it, found the link to the City of Paris's web page about this, and tried Google's "translate this page" feature.  This is the strange, unedited result:
Citizens, associations, councils of district... Make known your actions and initiatives!
You are members of an association, of a council of district, you invest yourselves in the life of your district, come to present and share your action with Bercy on June 18, 2005.
 This demonstration will be indeed the occasion to bring together all the inhabitants actively implied in the life of their district, to support the exchanges, to emphasize near Parisian - nes the effervescence of the initiatives carried out in the districts, in an environment of user-friendliness and festival.
This day there, the General sports Palate of Paris Bercy and its gardens will be transformed into villages sets of themes:
culture, community life, solidarity, sport, environment, local democracy, families, health, solidarity, human right, etc.
Stands, coffee-debates, forums, spectacles, animations, exposures will punctuate the day and will give the tone of this demonstration placed under the sign of the festival.
Among the federator topics and which will have to guide your proposals: engagement, citizenship, the exchange, fraternity, voluntary help, solidarity, collective interest, the participation, associations, the festival, user-friendliness, the division.
If you wish to take part, it is enough for you to to download "the call to participation" while clicking here or to withdraw it in the town halls of district and to turn over it before March 18 with the Town hall of Paris, Under Direction of community life,
32 quay of Célestins - 75004 Paris.
 To consult the press kit relating to the Spring of the Democracy 2005 (with format pdf)
Do you see why I wasn't sure yet if I really understood this?  "Bercy" is a large park on the east side of the city.  I'd go to the event on June 18, but we will be in England then. 
At Café Metropole, we ran into Kim and Ed, from Fort Myers (small world), and we saw Heather again.  Heather has a cool web site at http://secretsofparis.com .  Check it out.  She is originally from Minnesota but has been living in Paris for nine years.
Here's our group photo from yesterday at Café Metropole. We admired Tomoko for her guts, coming to hang out with us at Café Metropole in order to practice her English.  She is originally from Japan, and came to study French at the Sorbonne 26 years ago.  She stayed.  But she makes frequent trips back to Japan to see her aging mother.  Her English is a bit shaky, but she has the courage and wit to use it with a weird group like Café Metropole anglophones. 
After Café Metropole, we went to buy our extremely cheap phone card at a shop on avenue Emile Zola near the restaurant Oh! Duo.  Check this out.  This Kosmos card only costs 7.5 euros, and you get 1500 minutes of phone calling to the U.S.!!!  The web site for Kosmos is www.ksurf.net .