<![if !vml]>
<![endif]>
Sacre Coeur, on Montmartre.
<![if !vml]>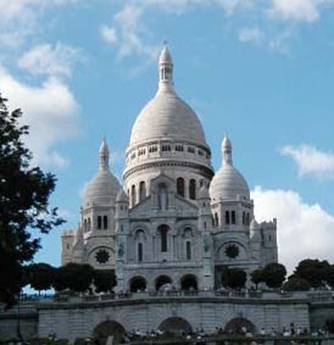 <![endif]>
Next year, we will have the apartment for only July and August, and so weíve decided to try to find a different place to stay for the month of September.† On the internet, I found an apartment for us to check out in the 15th arrondissement.† It is very small so Iím not sure yet if we will take it, but we loved meeting the couple who own it.† He worked for 20 some years as an oceanographer for UNESCO in Paris.† He went to the U.S. then (California) for an academic/research job.† Thatís where they live most of the time, but they bought this tiny apartment in Paris so they could still be here in the summer.† He is a fascinating man.† He is, by origin, a Coptic Egyptian.† He speaks Arabic, I assume, and he speaks English, French, and Spanish.† He must be in his upper 80s, yet he was agreeing with us that a high-speed internet connection is absolutely essential in the home.† (He has broadband wireless in the apartment.)
Upon hearing that Tom is a retired professor of American Literature, he was delighted.† He once wanted to study American Lit.† He and Tom obviously have much to talk about.† His wife was quieter, but very friendly.† I hope we can get to know them better.
Last night we had dinner with our California friend, Jerry, at La Gauloise.† The young, newer server was happy to see us, and he was more talkative than ever.† He left his prior job after that restaurant changed hands and the quality of the food declined.† For him, what is most important is to work for a good restaurant where the food is very good.† (This may explain why it isnít necessary to make French servers work for tips.† Just pay them well enough, and they work because they like the food and the resto.)† He loves his new job at La Gauloise.
I had skate, and it was prepared with lemons, capers, and butter.† It was absolutely divine.† The flavors seemed to almost explode in my mouth.† It was so powerful, and wonderful.† I told the server exactly what I liked about the dish, and he was delighted to hear it.† He said he would tell the chef.† I hope he did.
The three of us talked and talked, mostly about Tomís work (The Ivory Leg in the Ebony Cabinet) because Jerry, who is a psychology professor, was sincerely very interested in the topic.† We were among the last 8 or so people to leave the restaurant.† Almost the entire wait staff shook our hands, thanked us and wished us a nice evening.† Most of the servers working there have been there for many years.
Iíve been updating the restaurant review list, so check it out when you feel like it.† It is a little better organized now, and Iíve added more restos that are open in August.
We leave here on Saturday to go home to Florida, and there is much to do to get ready for the trip.† I donít know how much more I will write in this yearís Paris Journal.† So let me say now that this has been the best summer in Paris yet.† The weather has been fine, and our understanding of spoken French has improved noticeably.† Weíve done more socializing than usual (all with English-speaking friends).† The French people have treated us very well, as always.† In fact, theyíve been better than ever.† We had a great time in England, too, for those two weeks in June.† Weíve been productive in Paris, accomplishing much with the new textbook that is in the works.
Whenever you meet a French person, treat them very, very well.