<![if !vml]>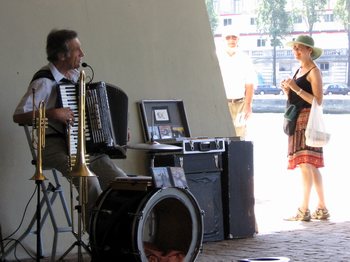 <![endif]>
American tourist about to buy two CDs from a one man band under the Pont des Arts
<![if !vml]>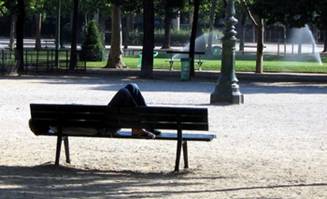 <![endif]>
The morning after a night of too much celebrating on the Champ de Mars
<![if !vml]>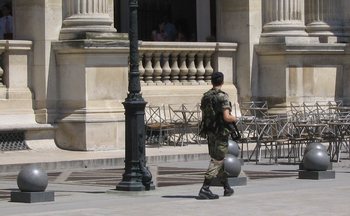 <![endif]>
Armed soldier guarding the Place du Louvre
<![if !vml]>
<![endif]>
Toy-sized Mini Cooper in car dealership window
<![if !vml]>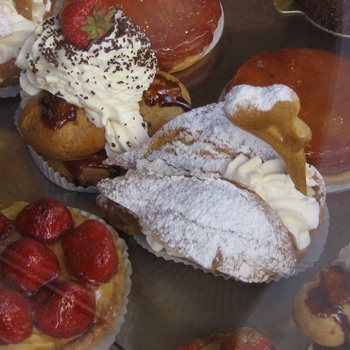 <![endif]>
Pastry swan in patisserie window
Last night France beat Portugal in the World Cup soccer championships and the city went wild.  This morning, the construction work on our street started very late – probably due to many hangovers.  So much screaming and yelling went on last night that I bet you couldn't find throat lozenges in the pharmacies today if you tried.  I tried to find a copy of Le Parisien, but once again it was sold out.  That newspaper has the most entertaining coverage of sporting events.
We had a pleasant dinner out on the terrace at La Gauloise last night, starting at 8:30, so we were there when the game started at 9PM.  Directly across the street, the Haagen-Dazs ice cream shop had set up a TV out on the sidewalk, and arranged the outdoor chairs theatre style so anyone walking by could just plop down and watch the game.  The wild cheering started early in the game, so we were greatly entertained during dinner.
---
I usually mention something about our taxi driver on the first day we are in Paris each summer.  Last year, he was a talkative gentleman from Mauritius.  This year, we had a quiet but nice driver from Cambodia.  We compared notes on heat and humidity in Cambodia and southwest Florida.  Cambodia, along with Vietnam and Laos, where once a French colony known as French Indochina.  Did you know the unemployment rate is only 2.5% in Cambodia?  It is more like 10 or 11 percent in France.
---
When we miss the subtropical and tropical plants of south Florida, we can visit a number of different greenhouses in Paris.  A couple of these, in the Jardin des Plantes in the 5th arrondissement, are undergoing a 4-million-euro renovation.  The work should be completed by sometime next summer, so we will revisit those greenhouses then and give you a report.
---
That floating swimming pool that I mentioned in yesterday's entry is actually part of a complex that includes a Turkish bath, Jacuzzi, solarium, and fitness center (but no gymnasium).  It took 18 months to build this recreation complex and it cost 17 million euros (about 23 million dollars).  And it only has one pool!  The pool is only 25 meters by 10 meters.  The detractors of the proposed Sanibel rec center should take note.  The Sanibel center seems like a bargain by comparison.
---
Paris is making itself into a wi-fi city.  The municipality is creating 400 free wireless spots by the end of 2007.
According to Mayor Delanoe, already 60 percent of Parisian households have high-speed internet.  The cost for such a connection in Paris is among the lowest in the world.  The city already has a network of over 1,800 kilometers of fiber optic cable.
But the cities with the most wireless networks are Seoul and Tokyo.
If Delanoe achieves his goal of covering the entire city of Paris with wireless networks (not all will be free), it will be the first city in the world to accomplish this, according to Le Parisien.
---
<![if !vml]>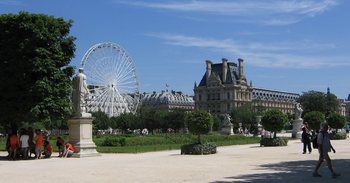 <![endif]>
The Carrousel at the Louvre