<![if !vml]>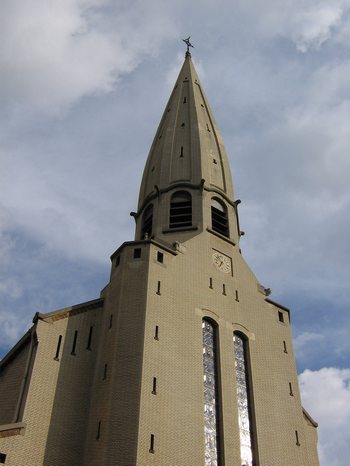 <![endif]>
The church at Place Dupleix.  What looks like tall windows here are really tall insets of mosaics.
<![if !vml]>
<![endif]>
Wildly patterned mosaic tile ceilings in a modern wing of the Musée du Quai Branly.
<![if !vml]>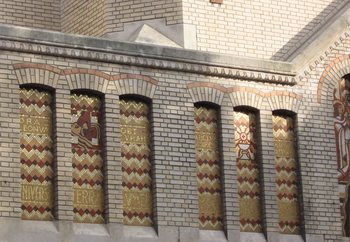 <![endif]>
More mosaic tile on the church at the Place Dupleix.
<![if !vml]>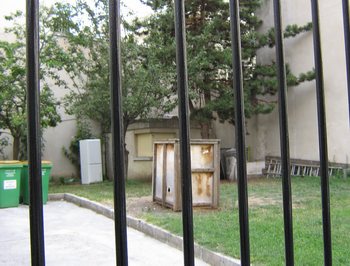 <![endif]>
The front yard of the Cuban Embassy is still a real mess.  Most of the fence in front of the embassy has been solidified now so you cannot see through it.  But you can still see through this gate, where it is obvious that they still think it is appropriate to keep junk in the front of an embassy in Paris.  It is surreal.
Sorry about the long break in the journal, but our friends Carol and Ron from England are here, and we've been busy doing things with them.
They were supposed to arrive on Thursday via one of the cheap airlines operating between London and Paris.  But when Ron awoke on Thursday, he heard the news about the foiled terrorist plot and knew that Heathrow would be utter chaos.  They contacted Eurostar (which was how they had wanted to travel in the first place) and learned that Eurostar had lowered their rates back to a competitive level.  So, they came to Paris by train, arriving in the late evening.
On Friday, we all walked up into the 16th and went to see the Musée Marmottan. I think the last time Tom and I visited this museum was in 1998 or 1999.  It was good to see all those fabulous Monets again, as well as all the other Impressionist works, both in the lower level gallery and in some of the upstairs rooms.  I did not remember the 18th and 19th century furniture and other art in the rest of the house, however.  That was new and very interesting. 
We sat for a long time on a terrace at a brasserie, just chatting and drinking wine, before returning to the 15th.  After a rest, we dined at Le Tire Bouchon, the last evening that they will be open this summer.  This year, Laurent and Isabelle Houry (the proprietors), are vacationing with their three children in Sardinia.  During the vacation, they will learn how to make new dishes and the menu will be completely changed when they return in early September.
The dinner we had there was superb.  Le Tire Bouchon this summer has moved up to the very top of my restaurant recommendations list (when I update it this Fall).
Then yesterday, we tried to walk over to the Grand Palais but it was raining too hard, so we had to give up and take the métro only as far as Invalides.  The exhibition in the Grand Palais is truly funny.  It is supposed to mimic the original exhibition of machinery that was in the Grand Palais when it was first used in the exposition of 1889.  But these machines that are now on display are all useless.  They are shown and explained by young comedians who make a big deal about the machine, building up the suspense in their presentation, until finally they demonstrate how the machine works.  The comedians were "masters of the art of anti-climax," in Tom's words.  The machines range from a device that makes Nutella (like peanut butter) sandwiches to one that catapults a piano across the room at 4:30PM each day.
Needless to say, we all enjoyed the afternoon very much, looking at these useless machines and watching the comedians demonstrate them.  The weather improved, and we walked home to the 15th.
Then we dined last night at La Gauloise, the big traditional French restaurant in our neighborhood that purports to be frequented by celebrities and politicians.  Their photos line the walls of the main dining room.  I sat right in front of an autographed photo of Kim Basinger, who has supposedly dined there.  I never recognize anyone famous when we go there, but the servers all treat Tom and I as if we were very important ourselves.  Little do they know . . . .
It was a fine dinner, and we will be back there again soon, I'm sure.
Today it is raining again, so I think the plan is to visit the new Musée  du Quai Branly. 
Before dinner last night, we took Carol and Ron to our favorite cheap grocery store down the street on rue du Théâtre.  According to a fellow blogger, Ken Broadhurst, "Ed" stands for "epicérie discount."  A very appropriate name.  I just learned from Ken that the name of this grocery is not pronounced "ed," but "euh-day."  In other words, it is an acronym.  Ken is an American living in the Loire Valley, by the way.