<![if !vml]>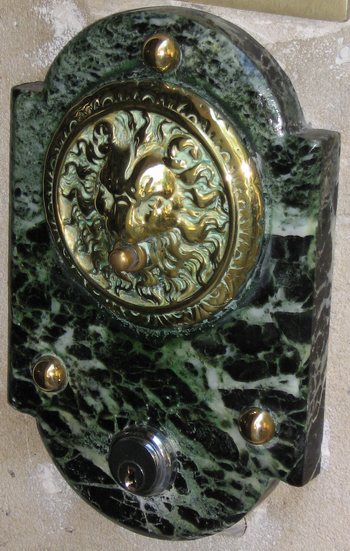 <![endif]>
My favorite hostile doorbell in Paris.  This is on the avenue Émile Deschanel or avenue Frédéric Le Play, to the east of the Champ de Mars.  Not exactly welcoming, requiring guests to press their fingers against a lion's tongue, is it?
<![if !vml]>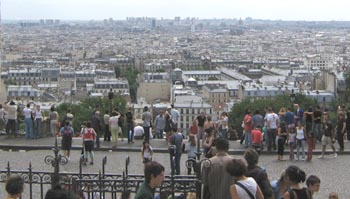 <![endif]>
View of Paris from Sacre Cœur on Montmartre.
<![if !vml]>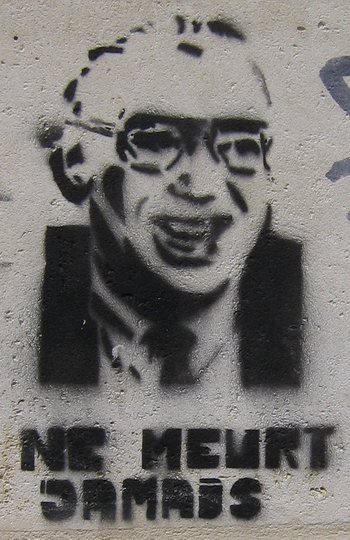 <![endif]>
Graffiti on Montmartre.  Anyone know who this is?  If so, please sign my guestbook and tell us.
Dan and Mary went to a bar on Montmartre one night and made several friends from a few different countries.  English is the default language, of course, when people from several countries gather, so they had no trouble communicating that evening.
They did get into a political discussion having to do with the crisis in Lebanon and Israel.  As Americans, Dan and Mary suffered no ill will because their political affiliations are far, far away from George Bush's.  So they all were able to talk about the crisis without anyone getting into an argument.
On the subject of who should send troops to the area, all those in the group at the bar (including a man from Algeria) agreed that it was Europe's responsibility because the whole problem dates back to the Holocaust in Europe.
That is exactly my opinion, too.  I am amazed that I have not read any editorials along these lines in either French or American newspapers (in addition to the papers we buy every day, I read some online).
What I do read in the "person on the street" interviews in Le Parisien is that generally, people here in France think that only the United States has the power to bring about the cease fire, so therefore the whole mess is the United States' to solve.  While there may be some truth to that, the general feeling of powerlessness in the EU may be a self-fulfilling prophecy.  There is no serious talk here, that I have detected, about Europe sending in troops, despite their historical responsibility for the situation.
France, in particular, with its enormous colonial past in that part of the world (and in Lebanon especially), and with the Vichy government's complicity in the Holocaust, would seem to have very high levels of responsibility when it comes to the question of who should send peacekeeping troops and who should step in to try to control the situation.  France, too, has sizeable Islamic and Jewish populations, and would not be seen as so biased as the US would be perceived (especially with the Bush administration in charge).
While I love France, the French, and French culture dearly, I find this inability to act to be troubling.
Back to beautiful Paris.  We have been blessed with cooler, beautiful weather and very good air quality for several days now. 
Yesterday, we took the métro to Odéon and had a nice visit with our September landlord, Ron.  Ron is a retired American designer who has taught at important universities in New York state.  Tom and I like him immensely.  Ron even took the time to show us around the neighborhood, although we already know it well.  Still, I needed to know where the nearest grocery stores were located, and he showed us a Belgian seafood restaurant named Léon—a place we never would have tried save for his wonderful descriptions of the food there.  We will go.
The terribly loud construction work in the street below our current apartment mercifully moved down the street a little way, and has now stopped for the day.  I think all this work is scheduled to be completed in October, which is when we will no longer be here.  But we can enjoy the results next year.
I am reading Nicolas Sarkozy's new book, Temoinage (Testimony).  It is one of the big bestsellers this year in France.  I was delighted to see that it is printed with large type!  The photo of "Sarko" on the cover is cute as can be.  And I am learning so much about the language by reading this book.  Highly recommended.