<![if !vml]>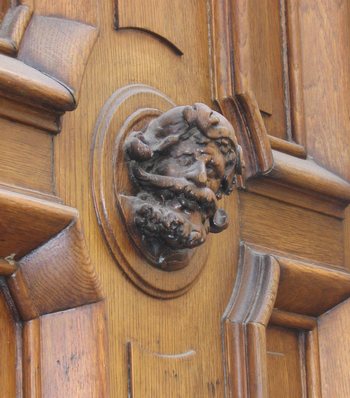 <![endif]>
Wooden head on door, I think on the rue de la Notre Dame des Champs. 
<![if !vml]>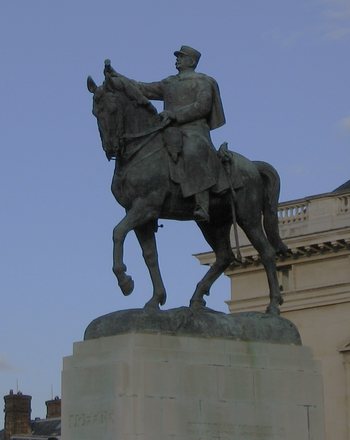 <![endif]>
Statue of General Joffre, in front of the École Militaire.  He faces down the length of the Champ de Mars, gesturing toward the Eiffel Tower.
<![if !vml]>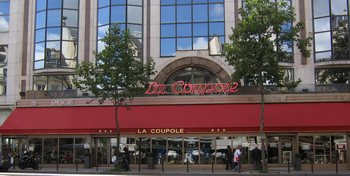 <![endif]>
La Coupole, a famous, big and elegant brasserie/restaurant on the boulevard Montparnasse.  This is one of four brasseries Hemingway and Fitzgerald liked to go to.  Le Select, across the street from La Coupole, was Hemingway's favorite.  I took this photo as we were having a coffee outside at Le Select.  Later, after walking for a while, we went back to Le Select to have lunch.  We each had a croque monsieur on "pain Poilane," which turned out to be a long, oval slice of very, very good bread.  The gruyere on the croque was excellent.  The croque came with a green salad, making it an ample lunch, for only 8 euros.
<![if !vml]>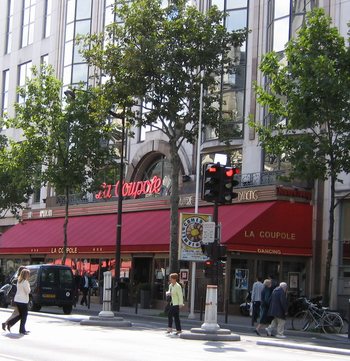 <![endif]>
I believe Floyd Landis is innocent of doping charges.  The following article from the International Herald Tribune explains why.
What if Floyd Landis were innocent?
John Eustice International Herald Tribune
THURSDAY, AUGUST 17, 2006
Drugs in sport

We all have every reason to believe that the American cyclist Floyd Landis cheated to win this year's Tour de France. Not only have his tests come up positive for high testosterone ratios, but damning evidence of exogenous, or synthetic, testosterone has been found as well.

All this comes on top of a never-ending series of massive doping scandals that have blackened the sport. Landis represents the 10th positive doping case in the past three years for his Phonak team, which this week was forced to disband for lack of sponsorship.

Landis's flailing public relations efforts, consisting of ever-changing feeble excuses, have turned him into an international laughing stock. Add the fact that his positive test came after a ride dubbed "improbable " by many, on the Tour's 17th stage, which had televison commentators (including me) gushing about "the greatest performance ever" and the entire episode seems neatly done up as the story of a desperate man in a dirty sport who reached too far.

Yet I believe that Floyd Landis is innocent and that we are witnessing a terrible injustice. I've lived this sport for 35 years and know the European professional cycling circuit intimately, and I feel strongly that in this case something is wrong.

The credibility of the Châtenay-Malabry laboratory that analyzed both of Landis's tests has been question. In 2005, the president of the Association of Summer Olympic International Federations called for the investigation and suspension of the lab after it was involved in the leaking of Lance Armstrong's (and only Armstrong's) results from experimental testing done on frozen 1999 Tour samples.

When Pat McQuaid, president of the International Cycling Union, explained why the union leaked the initial news of Landis's positive test, he said, "We know that the French laboratory has a close connection with L'Equipe" - France's leading sports newspaper - "and we did not want this news to come through the press, because we are sure they would have leaked it." Labs are not supposed to be able to identify samples or leak information. This is a fundamental principle of ethical scientific testing.

Whenever an athlete tests positive for banned drugs, you look to see who is close to them. Landis's trainer, Dr. Allen Lim, an exercise physiologist from Colorado, is an expert in the use of power meters, devices that attach to racing bicycles and measure power output. According to Lim, the "improbable" stage 17 victory on July 20 was a triumph of strategy, science and Landis's vitality. Landis averaged 280 watts over the five hours of the ride, but he has averaged 320 for six hours in training - documented proof, according to Lim, that the performance was well within Landis's capability.

The real trick on the day was the 55 bottles of cold water in the team car. Landis, alone in front as planned for easy access to them, continuously poured them over his head and body, keeping him in a "thermoneutral" state. Behind, the chasers, with less access to liquids, raced with core body temperatures reflecting the day's scorching heat.

Cycling is not by any means unique in suffering from major doping problems. But not every athlete cheats, and many are clean. Landis had an ironclad reputation in the racing world as a clean rider.

If Lim and Landis were going to cross over to the dark side, testosterone would not be their bridge. There are many more effective means to cheat. Testosterone has limited effect, and in any case must be used in a cumulative manner; it is not a one-day wonder, like taking a shot of amphetamines. So where was it in all the other tests?

It is also worth noting that the validity of current testosterone testing methods is not universally accepted within the scientific community. A similar testosterone doping case brought to the Court of Arbitration for Sport was recently overturned.

Landis is either another sad example of a rider without the will to escape the doping problems that cloud the sports world, or a man who represents a new way, a belief that clean sport can triumph, who has nevertheless somehow run afoul of the system. Whichever is true, he has the right to due process, which has so far been denied him because of all the leaks and the resultant media firestorm.

Landis deserves a chance to clear himself. He had an unblemished reputation, the laboratory that tested his samples has a credibility problem, and the organizations put in place to ensure his rights to due process have either attacked him or ignored him.

Floyd Landis won the Tour de France. Reserve judgment until the facts are clear.

John Eustice is a sports commentator and former professional bicycle racer.