<![if !vml]>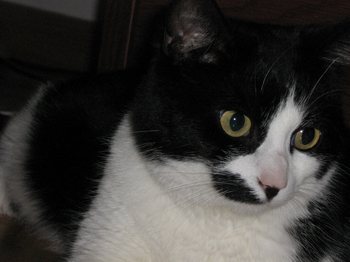 <![endif]>
Nico the Parisian Cat
<![if !vml]>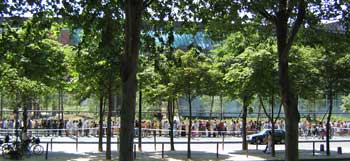 <![endif]>
Long line of people waiting to enter the newest museum in Paris, the Musée du Quai Branly.
<![if !vml]>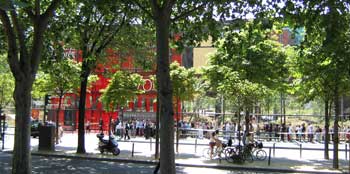 <![endif]>
More of the line in front of the Musée.
<![if !vml]>
<![endif]>
Tom demonstrates the tariff-free status of Parisian public toilets.
<![if !vml]>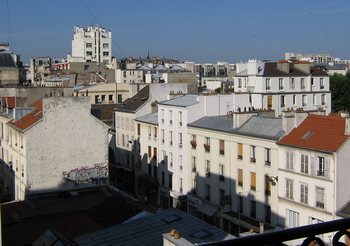 <![endif]>
View from our balcony on a gorgeous Sunday morning.
Welcome to the 2006 Paris Journal.  We arrived in Paris on Saturday after a very smooth couple of flights on Delta Song and Delta.
Our instructions were delivered at about noon.  That's right, as soon as we arrived we had a job to do.  We are catsitting for two days.  Our responsibility is pictured at left.  Her name is Nico, and her staff is an American family living in Paris for a few years.  Nico and her staff have a nice apartment very near the apartment where we stay every summer.
We wonder if Nico, who is Parisian, will become an American when her staff must go back home to California.
For now, we are Parisian.
In the evening of the day we arrived, France defeated Brazil in the World Cup Soccer Championships.  Fortunately, we had slept most of the day on Saturday, recovering from jet lag, so the fact that many of our neighbors were partying wildly all night long did not really bother us.
Not all French people watched the game.  While we had dinner at Oh! Duo, on Avenue Emile Zola, we noted that the restaurant was almost full while the game was going on, and there was no television in sight.
The next morning, I tried to buy a copy of Le Parisien at the newstand, but they were sold out.  That issue of the paper was devoted almost exclusively to the previous evening's victory.  Le Parisien must have printed more papers because we were able to buy one off of a brand new stack much later in the day.
Mercifully, not much has changed in Paris since last year, but some things have happened.  One is the opening of the Musée du Quai Branly.  We'd been watching its construction for years.  It is located not far from us, on the other side of the Champ de Mars.  Our plan was to see it yesterday, but the line was unbelievably long.  It could be that admission is free on Sundays, like many other museums here, and that accounts for the long line.  We will try to go on a weekday.  The collections there feature artifacts from "primitive cultures," according to Madame Valero at Oh! Duo (mostly former French colonies, I think).  The leftists criticized the museum as being culturally condescending, and featuring items stolen from their homelands.  A little controversy always makes a museum more interesting.
Something else has changed.  The toilet kiosks that I have explained and photographed in prior years' journals are now FREE.  There are no longer any excuses for people peeing in the bushes here.
Finally, the other big change is that the commercial street that we live next to (aptly called the Rue du Commerce) is undergoing a massive renovation to make it more friendly to pedestrians and less friendly to cars.  That's great, and we love the changes, but in the meantime, there are construction noises, dust, and barricades.  The noise isn't so bad because it replaces a lot of traffic noise.
The apartment owners asked us to check in on another apartment they own, where work has recently been done.  We did that this morning, and tried desperately to revive the fried ivy in two window boxes.
Yes, it is warm here.  All three days so far have had high temperatures of about 90 F.  It isn't so humid as home in SW Florida, however, and yesterday there was a nice blue sky and a stiff breeze.  But today the air is yucky, and there is a bad ozone alert.  Fortunately, thunderstorms and lower temperatures are due on Wednesday.
Tomorrow we have appointments to see two more apartments, one of which we may rent for the month of September.  One is in the Marais, and the other is near St. Sulpice and Hemingway's former apartment.
<![if !vml]>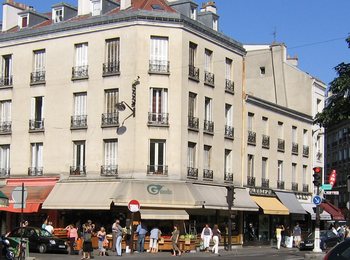 <![endif]>
Another neighborhood scene.