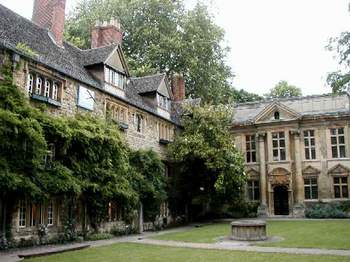 A college at Oxford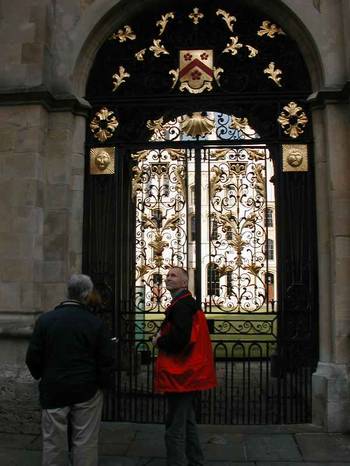 The gate to All Souls college at Oxford. Andrew is in the red jacket, Tom has his back to us, and Wendy is standing in front of Tom, reading from the guidebook. All Souls has never had students -- it is just a college for fellows -- a place for them to pursue their own studies.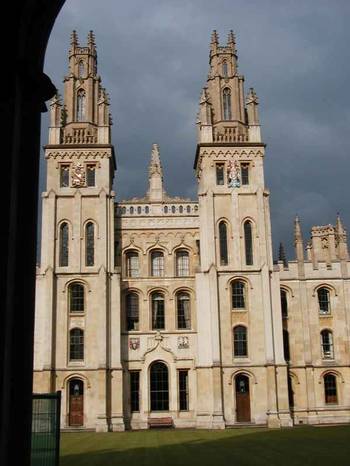 Looking at All Souls through the gate.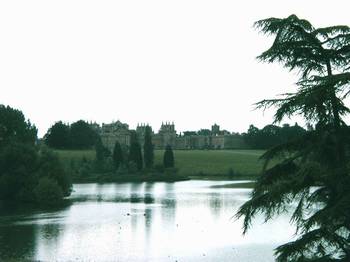 Blenheim, at one time the home of Sir Winston Churchill. His wife did not like the big old place -- so they say. What's not to like, we wonder? Maybe it was just the gray weather . . . .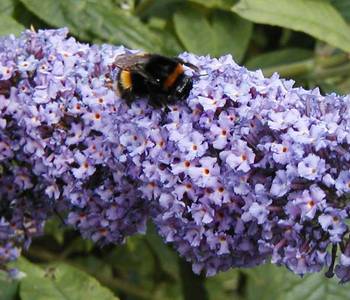 Bumble bee in the garden at St. Tiggywinkle's wildlife hospital near Haddenham, Oxfordshire.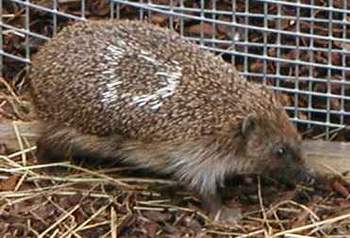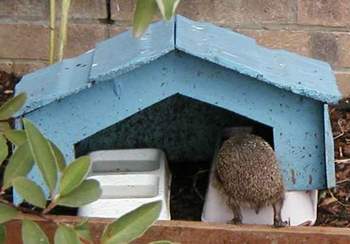 Hedgehog on his way to lunch, and then eating lunch at St. Tiggywinkle's.
Friday, July 27
Last Wednesday evening we had a wonderful visit from Clark, Tom's editor at UMass Press, and his beautiful wife, Suzanne. Because we just knew we were going to have a good time, Tom and I had already packed our bags for England -- we were leaving the next morning. Sure enough, Clark, Suzanne, Tom and I had so much to talk about over drinks at the apartment that we decided to go out to eat together -- at La Folleterie, of course (our favorite, very nearby French restaurant). We stayed up late eating & talking, and so in the morning we had to dash off on the Métro to catch the Chunnel Train at Gare du Nord. Then, within a few hours, we were in London.
The London Tube was three times more expensive than the Métro, we found out, and the platforms are three times more crowded. But it was all very easy -- within no time we made it from the Waterloo Station via the Bakerloo line to the Marlyebone Station and immediately boarded a train bound for Princes Risborough in Oxfordshire. All put together, Métro, Chunnel, Tube, and Chiltern Railways -- it was a very, very smooth trip, and quite comfortable, even with second class seats.
We went there to visit our friend Wendy, who was staying at her sister's house in Henton, near Chinnor. We were struggling with the pay phone at the station in Princes Risboro when a "mini" (small car in Britain) zipped up to the curb with a little beep of the horn. There was Wendy, and her daughter Cassie. They'd been to lunch at a pub and were worried that we had been waiting at the station. We'd actually just arrived there, so her timing was impeccable.
We met Wendy's sister, Carol, and her husband Ron (delightful people!) and then the four of us (Wendy, our friend Andrew who was also visiting Wendy, Tom and I) went off to Oxford -- a short drive down the M40 (superhighway) toward London.
We parked at the edge of town at the free Park & Ride lot, and boarded a double-decker bus (1pound 50p per person) into town. The front seats in the upper level were free, so we had a great view as we entered Oxford.
Then we had a dizzying, high speed tour on foot of the town of Oxford (Andrew is one of those typical American tourists who has to see as much as he can as fast as he can). Then we took a long walk to a restaurant that Wendy wanted to try. That was when Tom and I saw another part of the town of Oxford that we had been unaware of before. This part has large stone Victorian-era houses that have, for the most part, become college-owned buildings. We think we have a much better feel for what Oxford is really like as a result of taking this walk out of the center of the town.
Wendy had made an excellent choice of restaurants. The place was called "Gee," and it was situated in what had been a house, I think, with a huge conservatory -- the main dining room -- added onto the back. The food was so good that it evaporated the myth of bad English cuisine from our memories.
We all collapsed back at Princes Risborough -- but not until after we'd had a cup of tea with Carol and Ron. Their house is beautiful.
In the late morning on Friday, Wendy, Andrew, Tom, Cassie, Carol, and I piled into the mini and Carol's car and drove to the Cotswolds. This end of the Cotswolds Tom and I had not seen before. We started with Stow-on-the-Wold, then went on to Upper Slaughter, Lower Slaughter, and a whole slew of other unbelievably quaint villages.
At Stow-on-the-Wold, Andrew went into the Tourist Information Office and said, "We're American tourists but we don't want to be American tourists." The woman behind the counter said, without hesitation, "Sorry, we don't do nationality changes. We do sex changes, but not nationality changes." We, fortunately, were not with Andrew at the time he did this. So, later, we went into the place with Wendy and Tom went up to the counter and said, "I understand that you do sex changes here." The woman said, "Yes, we do. But my scalpel isn't sharp today -- and we're out of anesthesia. We'd have to hold you down."
We also stopped at one point and took just a short stretch of public footpath into a cow pasture (recently re-opened in the aftermath of foot-and-mouth disease precautions). There we saw, from across a pretty valley, Blenheim -- a great house once lived in by Winston Churchill.
When we'd had our fill of Cotswolds, Carol and Cassie headed back to Henton and Wendy, Andrew, Tom and I went to the best pub near Henton -- at a hamlet called Bledloe. After a couple rounds we went back to Carol and Ron's, where Carol's daughters, Holly and Emma, also joined us (they'd just driven in from London to spend a weekend with their mum). Carol made the most wonderful gourmet dinner -- another example of very fine English cuisine (except that it started with an undeniably Italian ante pasto salad -- also excellent). Each day at Carol's and Ron's house begins and ends with a cup of tea. A very good idea.
The next day, everyone except Ron went to St. Tiggywinkles, a wildlife hospital. I had said that I really wanted to see a LIVE hedgehog (not just the dead ones I've seen by the side of English roads) and Carol thought they might have some for us to see at St. Tiggywinkes. Indeed, the wildlife hospital has 480 of them at the moment, and they have a nice visitor's center with an educational "garden" where one can see some of the animals and birds who live there -- most of them temporarily. Everyone seemed to enjoy this little outing very much. We saw hedgehogs, small deer, a fox, two badgers, and lots of birds of all kinds.
After a quick lunch, Carol, Wendy, Holly, Emma, and Cassie took off for a weekend trip to see their friend (and former nanny to Holly and Emma?) on the south coast of England. Ron had suggested that Tom and I might want to see Waddesdon, a National Trust site that was the home of one of the Rothschilds and is now the home of the Rothschild collection.
The house is much like Biltmore, and like Biltmore, it was constructed in the 19th century to be a replica of a great French chateau situated on expansive grounds with wonderful gardens, forests, an aviary, and more.
We had two hours to explore the house before closing time, and it wasn't quite enough time. We'll have to go back. There is so much to see -- and is this ever the way to see these things. Every painting, piece of furniture, carpet, piece of china, chandelier, etc., was arranged perfectly. The lighting on the paintings has even won an award. There was even a room about the Rothschild family, which is now extensive. I bought a history of the family in the giftshop, which I'm reading now.
Waddesdon has one of the best collections of French 18th century decorative arts in the world. The house was built to house the collection, but was also designed for the family's enjoyment. And so it seems very comfortable. The gardens have just been re-planted. The parterre in front of the house was designed by Oscar de la Renta in striking colors of blues, greens, and yellows.
Ron is an excellent guide. Even though he and Carol have not lived in Henton very long, he knows a lot about the area and he drove us by some very interesting places after we saw Waddesdon. One delight that he showed us was a garden created by Lord Carrington for the enjoyment of his neighbors. It is called the Lyde Garden, and you won't find it in any guidebook. It is on a hillside with a spring-fed stream, and it is planted with all kinds of fabulous perennials, shrubs and exotic trees. The winding path and footbridge give it the feel of a Japanese painting. It was wonderfully green, damp, cool and pretty. Nobody was there except for us.
Ron also showed us the quaint town of Thame, including the manor house where Morris (sp?) Gibbs, one of the former Bee Gees, lives. Very, very lovely. And then Ron showed us a hidden, ancient village called something like Winchendon. No tourists here either, and they sure don't know what they're missing. Spellbinding. Very cool.
Ron, Tom and I went into Oxford for dinner again. This time to a place that was just bursting with liveliness and activity -- a stark contrast to the quiet villages we'd just seen. We had another dinner that busts the myth of bad English cuisine.
We had such a wonderful time at Carol and Ron's. We've invited them to come see us in Paris, and they say they will. We have a lot of hospitality to repay -- and we greatly enjoyed getting to know them.
Click here for St. Tiggywinkle's Wildlife Hospital Web Site -- Yes the place DOES exist. I'm not making this up.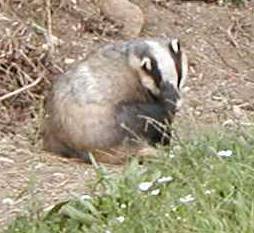 Badger scratching her nose at St. Tiggywinkle's.

This fox was very shy.