Monday, July 30, 2001
On a warm Sunday we saw a cool church -- Église St. Roch -- not far from the Palais Royale. Its foundations date to 1653, but the church wasn't completed until many years later because of difficulty in raising funds. Lots of famous people are buried here, including the garden designer Le Notre; we've been admiring his work all over the city.
According to the historical plaque inside the church, this is one of the more grand churches in Paris, and one rich in paintings and sculptures. Its facade, designed by Robert le Cotte, dates from 1735, and the church wasn't consecrated until 1740. In the 18th century, this was the church of many artists, writers, and theater people.
I don't like to use a flash in churches, so please forgive the quality of some of these pictures (right column). The ceiling was truly remarkable, especially the "Triumph of the Virgin" painted by J. B. Pierre on the dome of the lady chapel. I thought the carving of the "fabric" over the bishop's chair was also incredible (lower left corner).
Yesterday was the day the Tour de France ended in Paris. So part of this area, immediately south of the church and north of the Tuileries, was blocked off to autos. Yet the crowds were concentrated right around the Tuileries and the Champs Élysées. So it was unusually pleasant walking around this central part of the city.
We went up to where the old National Library is located. They, fortunately, have kept the reading room the way it was, except that all the books are gone (moved to the Mitterand Library in the 13th that I wrote about last year). The medals and antiques museum is located in part of the old library -- and we found that it had free admission on Sundays. There was also an amusing temporary exhibit about clowns in the crypt. The clowns who moved the national library to the Mitterand were not featured.
Rare manuscripts are still kept in the old library here, but we didn't see them since that section is closed on Sundays.
Outside what is now the main entrance to the library, at 58 rue Richilieu, is a small park that is so typical of lovely small parks that you find everywhere in Paris. This one has a nice fountain (below).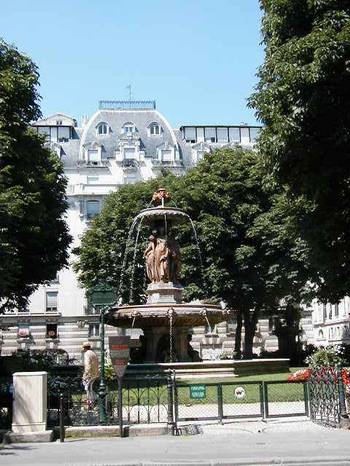 We explored a couple of Paris's 'galeries' -- passages that are enclosed, lined with lovely shops. These were, at one time, narrow streets, I'm sure. The ones we saw were near the Bibiothèque National, and in fact the friends of the library had taken over part of one of the galeries for their offices & reception rooms. (Galerie Colbert and Galerie Vivienne).
Exiting on the east side of Galerie Vivienne and turning a corner, we came upon a small plaza with an Italianate church -- we could have been in Rome. This Basilique de Notre Dame des Victoires is on the site of an Augustinian monastery. I did not take pictures there because it was too dark inside.
Next we walked up to the Champs Élysées to greet Lance Armstrong (we didn't get to say hello -- he just whooshed by on his bicycle, so we caught him on TV later in the day -- he was speaking in French, answering questions put to him in French -- so there goes one of the French people's criticisms of him -- now he knows not only English and Spanish, but French, too -- still, I'm sure it won't be enough until he can conjugate with perfection). The crowds were incredible because they were spread out along such a long route. On the way there, we passed by a small McDonalds that was crammed full of people -- mostly French people. It was literally standing-room-only in there (below).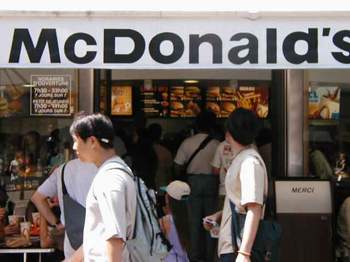 After recovering in a nearby park from the heat and excitement of the first Tour de France groups whooshing by, we took the Métro home to Commerce. Here is the park at Commerce -- under which is our Métro station. It, too, is a typical park, with its rows of manicured chestnut trees. Facing this little park is an Italian restaurant where we go on Sundays or Mondays when we don't want fancy food.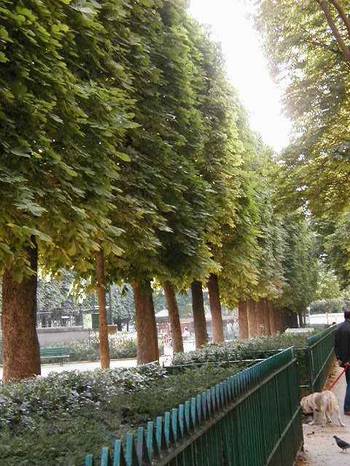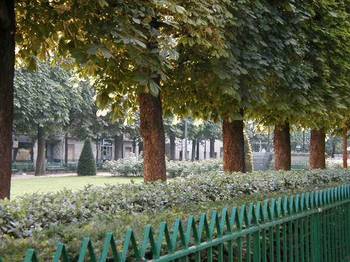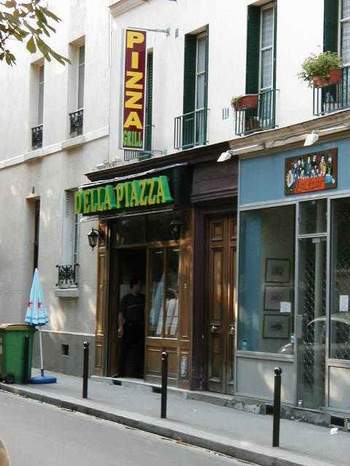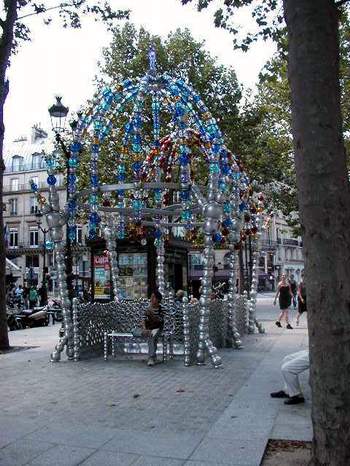 This strange looking Métro entrance is something we encountered at the Place des Victoires, I think, on our way to the the finish of the Tour de France.
Tuesday, July 31, 2001
We're Seine Walkers. I told you about how we walked along the Seine, taking advantage of streets that were closed, on Saturday. We did it again yesterday, going all the way to the east reaches of the city -- to the Park at Bercy which I wrote about last year. The weather was hot, but we're Floridians so we don't care.
To start, we took the number 14 Métro to Chatelet. Tom loves this supermodern, driverless Métro. He loves to get all the way up front, where the driver would be, and watch the tunnel lights go whizzing by. At the stop at Pyramides, a whole day care center full of kids got on board, all excited, and they wanted to be in the front. They literally crawled all over us, so we made way. I took these pictures of them as we were disembarking. They were very cute.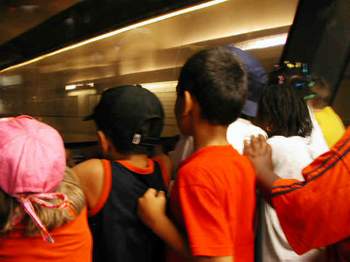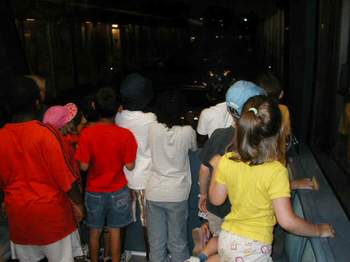 On Saturday, I had seen and tried to take a picture of a doorway next to Pont Louis Phillippe where someone had done their laundry -- tee shirts -- and hung them out to dry. The person's pitiful dog was lounging, dog style, in the doorway. The picture did not turn out, but yesterday, the dog was there again, and this time the laundry consisted of a sleeping bag. I guess this must be a homeless person's quarters -- a fastidious homeless person.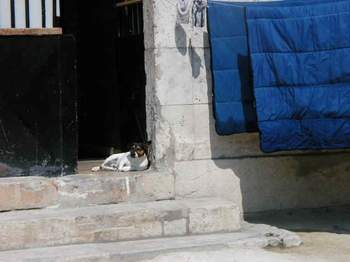 We ended up at the lovely, large park at Bercy, where we drank water and watched the carrousel, and then walked through the gardens. When I see exquisitely designed, new parks like these, it makes me think that French landscape architects must go to a different, better school than French architects of recent decades. Modern French architecture is pathetic. Modern French parks are superb. One of coolest things about the park at Bercy is how the designers decided to handle the fact that a road cuts through the middle of it. They hid it with a folly so that as you approach it, it looks like a wooded hill. Only when you reach the top and see that you are on a footbridge over a cobblestoned, tree-lined street. See the pictures at right.
Many Parisians are getting ready to go on vacation. In fact, many have already left (thank heavens). We hear them talk about their travel plans at cafés. Some of our favorite places are closing for a few weeks. And on Sundays and Mondays, many places are closed anyway. One dependable standby is Le Tipaza, a North African restaurant just around the corner on Avenue Emile Zola, where we went last night. The interior decor is elaborate. The ceiling and tops of columns are intricately carved or molded.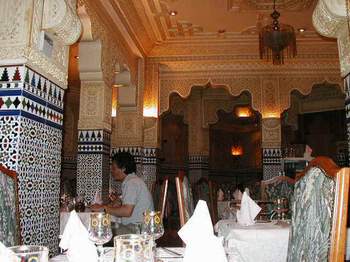 Le Tipaza.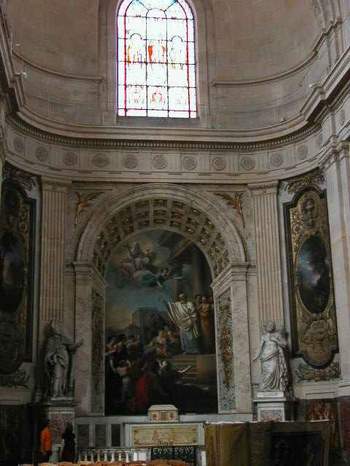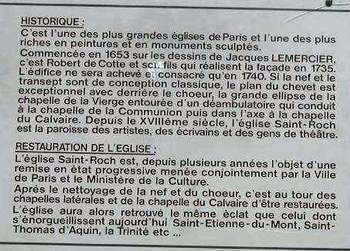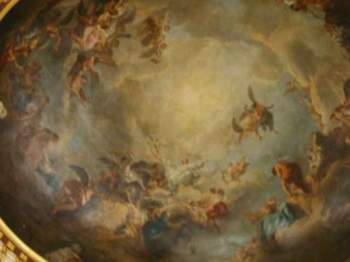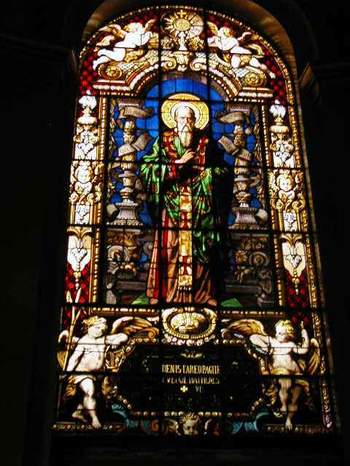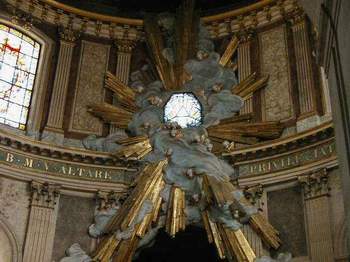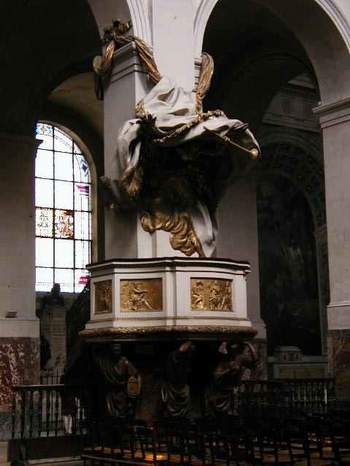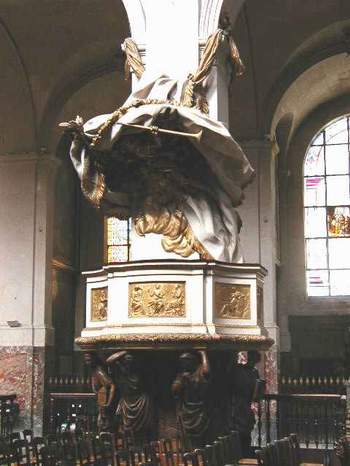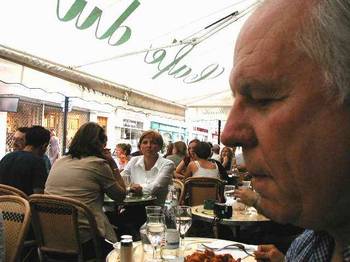 We prefer a sidewalk café, such as Café du Marché on rue Cler, any day -- rather than McDonalds!
A nice couple from Palo Alto took this picture of us at Café du Marché.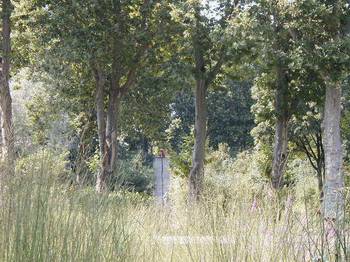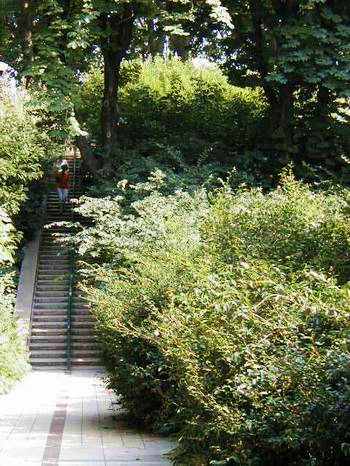 Folly at Bercy.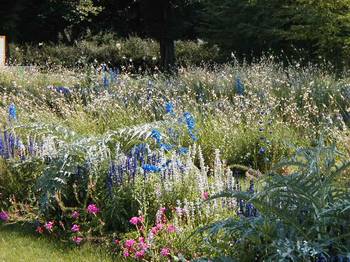 Flowers at Bercy.
We bought a Paris newspaper and puzzled out the articles about Lance Armstrong while we had drinks at a café in the afternoon. The French journalists (Lance calls reporters "snakes with arms," and hence, they don't like him either) continue to be ruthless. But Lance has some strong supporters, including a Belgian who had previously won five Tours de France. The paper did print an adorable photo of Lance with his little son, Luke, and the journalist who interviewed Mrs. Lance was charmed by her radiant smile. There was also a fun pic of a bunch of Texans giving Lance a bear hug as they reached over the barriers on the Champs Élysées. The French papers call Lance "the Texan" as often as they refer to him as "American." I think "Texas" must conjure up some romantic images in the French mind. If only they knew the truth about Texas . . . .