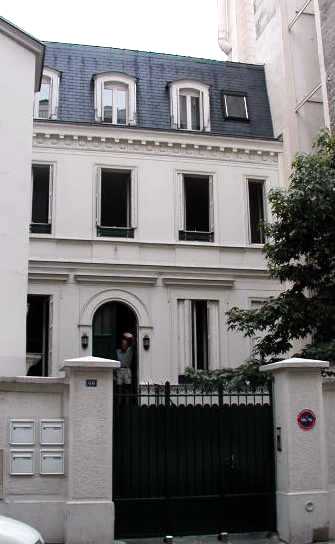 An inviting house that we noticed on rue Rodier.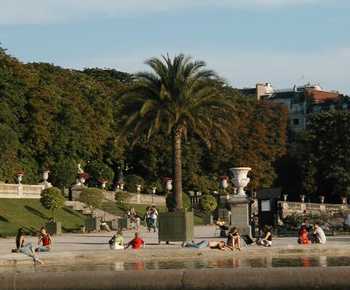 Palm tree and basin at Luxembourg Gardens. This basin is where Marie Laure of French in Action plays with her small sailboat.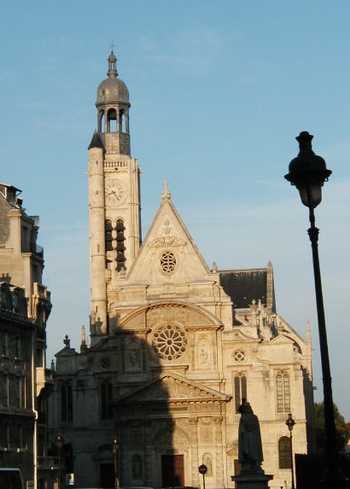 St. Etienne du Mont is next to the Pantheon, near the Luxembourg gardens.
Yesterday we had a nice, long lunch with Florida friends, Kim and Ed, who are here on a house exchange. They are in a REAL house in Paris, not an apartment building. It is in the upper part of the 9th, so we took three successive metro trains to get there. The trip requires us to go back to the place where Tom had his arm broken by a pickpocket in 2000. That's good. This way, we remember to be careful always.

The house isn't far from Sacre Coeur. Some terrible person has spilled red paint all over one of Sacre Coeur's domes!

Sorry I didn't take a picture of it before it started to threaten to rain.

Our lunch included two huge bowls of mussels cooked in wine, butter and shallots. Tom did most of the cooking of the mussels, in our friends' very nice kitchen. We listened to our friends recount numerous very interesting experiences in France. And then we came home. We hope they will come see us here in the 15th sometime this next week.

They are wonderful, elegant people.

The other night, we went back to La Gauloise on Av. de La Motte Picquet. Alas! The wonderful pork ribs are back on the menu! And the vegetable caponata! I was wearing my Kerry button and so we received superb service. Our waiter seemed to love us, especially when I said "Nous sommes tres content" when he was fretting over how long it was taking for our main courses to arrive. We weren't the least bit concerned about the wait. We were, indeed, very happy and content to sit and enjoy the evening on the terrasse.

This morning, I had a pleasant conversation with the proprieter of the nearest travel agency. He told me where I could buy tickets for our trips to Germany and England. He was not quite equipped to sell those to us himself. Thomas Cook, the British based agency, is the place to go. There is one up on La Motte Picquet, so I guess that's where we will be this evening again.

The weather is perfect right now. Sunny, high temps in the low 80s, and low humidity.

A stunning piece of news from yesterday's Le Figaro:

Mount Blanc, the highest peak in Europe, has lost height! In the French in Action video series, Professor Capretz had interviewed people on the streets of Paris, asking them how high is Mount Blanc? They all knew the answer! It was 4,807.5 meters. This essential fact is drilled into every student's head in school.

New measurements have been taken by the Laboratoire de glaciologie et de geophysique de l'environnement (LGGE). Evidently, this figure has changed before. In 1894, the official height was 4,807 meters. In 1986, the figure was changed to 4,808 meters. Its "peak" was 4,810 meters in 2001, falling back to 4,808 in 2003.

But this year, for the very first time, the altitude of the actual rock (excluding the ice & snow on top) has been determined. It is only 4,780 meters (covered by 28 meters of ice) at the Mount's highest icy point. But the highest rocky point is 40 meters to the west of there, where it peaks at 4,792 meters, under 14 meters of ice. And the altitude on the surface is now only 4,806 meters. Must be because of the heat wave last summer . . . .

Mountains and ice were also topics last night on my favorite French TV show (now that the Tour de France is gone). La Carte Aux Tresors was in the French Alps. Remember Lance's outstanding performance on Alpe d'Huez? Well, I got to see much more of that alp last night. Enigma 1 had to do with alps and glaciology. Enigma 2 was on silver mines, and Enigma 3 as about the reintroduction of endangered animals in the parks. Finally, the "rose de vents" episode was about how erosion shapes rock formations, particularly limestone.

Ah, to see France by helicopter. C'est genial!