A few days ago, I gave a Kerry button to Kim. She's been wearing it all over her part of Paris and has been getting very favorable responses from French people. This gives her more opportunities to speak French, something that she enjoys doing.

We bought our tickets to Germany at the Thomas Cook agency on La Motte Picquet a couple evenings ago. As we waited comfortably I observed the two people working there. One, a young female travel agent who was obviously flirting with her customer, a very handsome, tall, athletic young man. The other, an almost middle-aged attractive woman who sat at the manager's desk, was very stern looking. She was helping another young man. As I expected, it was the "stern" one who was freed up first and who would be helping us. I was prepared to be dealt with sharply. However, when we approached with our polite "Bonjour, madame"s, all ice melted. I guess she just did not like the customer before us.

She was delightfully friendly and helpful. We started out using French but after about 5 minutes, she switched to English to explain to us that it was really okay to travel in the second class seats, and it was less expensive. This was something I suspected, because I know it is true for SNCF trains within France. I've not yet travelled on EuroCity trains outside of France.

She was concerned at first when we requested tickets for Mannheim rather than Frankfurt because she did not know if she could sell tickets to Mannheim. If it isn't a direct train from Paris to Mannheim, then she can't sell the tickets. We'd have to go to the EuroCity office on the other side of Paris, and I don't think they'd be open in the evenings. (We're working on the textbook for W.W. Norton during the daytime.)

But alas, she discovers on her computer that she can sell us tickets direct to Mannheim. She is even more delighted about this than we are. She was thorough, making sure to take care of every detail for us. Then she pointed to my Kerry button and asked if I would vote for him. I said yes, there is no other choice! And that I liked both of the Kerrys very much. She was in complete, enthusiastic agreement.

I then asked if we could buy plane tickets from her for our trek from Germany to England in early September. But she said that in France, it is much more expensive to buy tickets for flights leaving from other countries. In this day of the European Union, I find this odd. But not really. It sounds like French bureaucratic rules to me. She said that even though we'd be buying the plane tickets only a couple days in advance of our flight, it would be much cheaper to do so in Germany. However, she did go to the trouble of checking the flights from Frankfurt to London to be sure there are lots of seats available. Indeed, there are.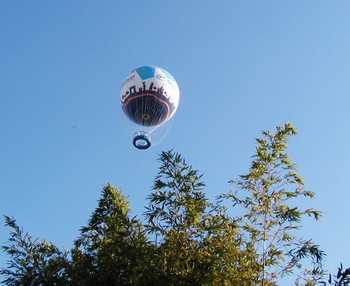 The Sightseeing balloon in Parc Andre Citroen. We often walk through this park in the evening before dining at 8:30 or so.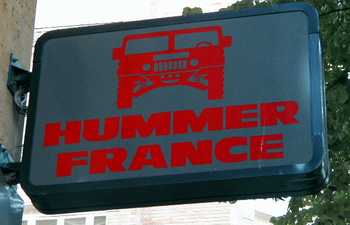 Can you believe they actually sell these monstrosities in Paris, right here in our neighborhood? I've never seen anyone attempt to drive one in this city, however.