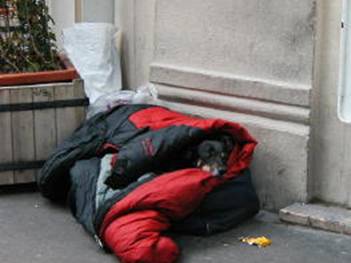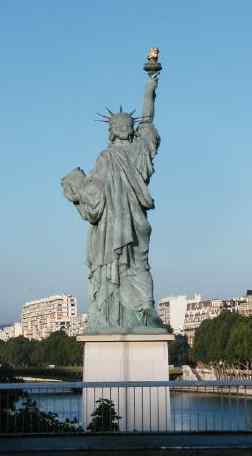 At the chocolate shop Debauve & Gallais, chocolate golf balls and cute tea pots are for sale.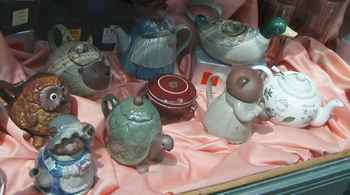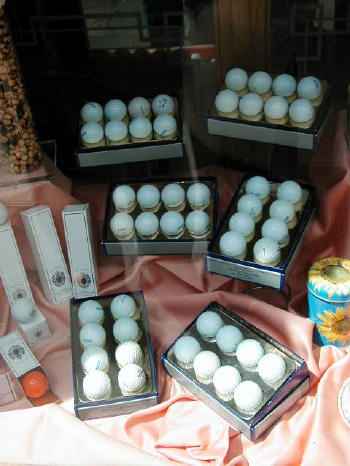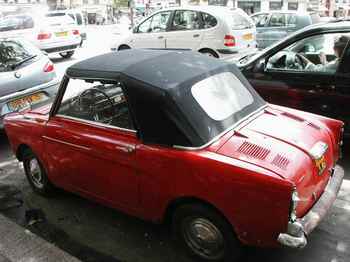 We felt like this dog (in sleeping bag, left) when we arrived in Paris on Thursday morning, after a few days with almost no sleep and with bad head colds. And alas, Paris is having its coldest July since 1941. When the shuttle finally picked us up at Terminal 2C at CDG on Thursday, we noticed that all traffic behind us had been stopped by the authorities. Some fool left a huge pile of luggage at the curb, unattended. The bomb squad was preparing to blow it up (below, white vans, traffic piling up behind).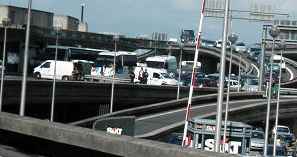 I ventured out yesterday morning before Tom got up and I walked for an hour to the Allée aux Cygnes and back. The Statue of Liberty stands at the near end of the Allée. Then this afternoon Tom and I went for a typical walk through the Champs de Mars, along the Seine, then along the Blvd. Saint Germain to Mabillon.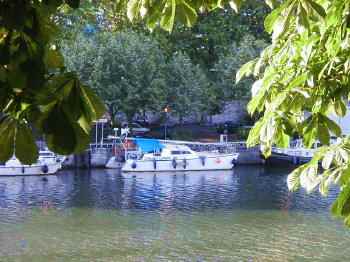 Boat near Allée des Cygnes.
The most exciting adventure we encountered on our walk was a pigeon in distress. He had managed to get a trash bag wrapped around his wing. When he flew, it looked like he had a long, flowing white cape behind him (below). But he couldn't fly far. We stood and watched to see if he could peck it off. But he was not making any progress, so a nearby rollerblader took off her skates and walked barefoot over to him, chased him until she could step on the bag. But the bird was panicking. So, Tom went over with his jacket in hand, which he threw over the bird to calm him. That worked. The rollerblader then was able to remove the bag. Success!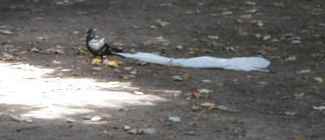 There is a fine new entrance, at last, on the side of the Musée D'Orsay.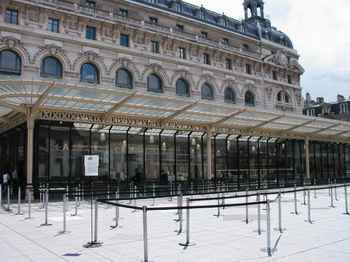 Another entrance is in the process of renovation.