<![if !vml]>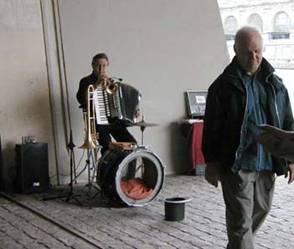 <![endif]>
A one-man band under the Pont des Arts.  He was so good that Tom put some money in his tophat.
<![if !vml]>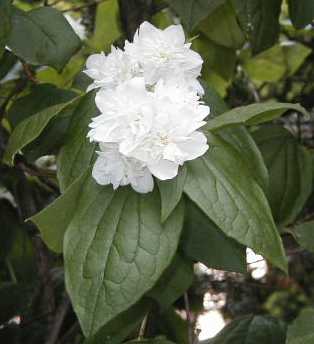 <![endif]>
Fuzzy deutzia.
<![if !vml]>
<![endif]>
Gift shop for the Tour d'Argent (extremely expensive and old restaurant).
<![if !vml]>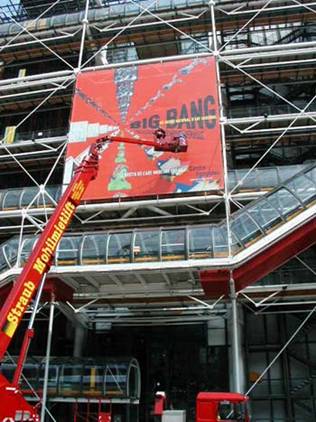 <![endif]>
A large sign being put up on the Pompidou Center.
The leadership of France seems to be on the verge of a nervous breakdown brought on by a series of humiliating losses.  And the losses continue to pile up.  First there was the NO vote on May 29, whereby most people in France said NO to the EU constitution, in spite of what the French elite wanted.  Then there was the loss of the 2012 Olympic Games.  Then there is the fact that the French racers are not doing all that well in the Tour de France.  And Thursday I told you about the potential loss of Danone, one of France's industrial gems, to that "mastodon," PepsiCo, an evil American empire.
Now the French are losing their old National Printing House (l'Imprimerie Nationale) and maybe Taittinger Champagne.  The Airbus-Boeing case is opening at the World Trade Organization, and the French may well lose that battle, too.
First, let me clear up a few misconceptions about Danone.  While the French consider it to be a French company, and a leader in "innovation," the historical facts paint another picture.  The company was founded in 1919 in SPAIN by a Jewish businessman named Isaac Carasso who came from GREECE.    The INNOVATION was his ability to combine an industrial process for yogurt production with traditional GREEK recipes.  He accomplished this while in SPAIN.
In 1929, his son, Daniel Carasso, moved to France.  But he could not stay for all that many years because when the Nazi's occupied France, the French government went along with the Nazi effort to round up all the French Jews and send them to death camps.  So Daniel escaped from hostile France and went to the U.S. where he was treated much better.  He made yogurt in the U.S. under the name of Dannon.  He left Danone in the hands of trustworthy friends.
Daniel finally felt safe enough to return to France in 1951.  He revived Danone through a series of MERGERS and ACQUISITIONS.  Daniel no longer runs Danone.  He is almost 100 years old, and he attributes his long life to eating yogurt, which is a GREEK food.
So, with this history and with 80 percent of its operations now conducted outside of France, Danone is more appropriately called a multinational company, and it always has been from its start.  With its history of mergers and acquisitions, it would not be unheard of for it to be acquired by another conglomerate.
The fear that PepsiCo may acquire Danone is based solely on rumors.  Danone's stock has gone up as a result, even though its profits are declining.  Let's watch to see who might try to benefit from the current situation by selling their stock . . . .
On to the next loss – the Imprimerie nationale, or National Printing House.  It is a huge 38,000 square meter brick building here in the 15th arrondissement on the rue de la Convention.  I'd say it was built in the early 20th century.  There is a nice garden in front, with a fine statue of Guttenberg in the middle.  The Imprimerie used to print documents such as fiduciaries, drivers licenses, identity cards, examinations, and something important called "l'annuaire," which also happens to be what the phone book (white pages) is called.  Maybe it is the same thing, I'm not sure. 
The Imprimerie still prints art books, art prints, special stamps, etc.  There are a few newer outposts of the Imprimerie near the banlieue, and I believe those will remain in operation.  Only the old central Imprimerie has been sold.
Here's the worst:  It has been sold to an AMERICAN investment company that will turn the structure into an office building!  The essential part of the building will remain because it is classed as a historic monument.  Le Parisien states, "But its life will disappear.  The blue shirts will be replaced by neckties, and the odor of ink will be replaced by computer screens."
They still use Linotype machines with real lead type at the Imprimerie!  Up until July 30, that is.
The Imprimerie was started by Francois the 1st.  Back then, 230,000 engravers made deluxe works using French, Greek, Hebrew, Tibetan, and other alphabets – 64 languages in all.  After the Revolution, the Imprimerie was used as a communication tool to publish all the new rules and regulations.  By 1904, all the government printing and the printing for government-owned operations (such as the utility Electricité de France) came from the Imprimerie.  "It was a real monopoly," recalls Loïc de la Cochetière, the CEO of the Imprimerie.
On to the next loss.  The Taittinger family, of champagne fame, needs to sell its company for tax reasons.  It is probably going to be sold to an AMERICAN investment company, Starwood Capital, which is mainly interested in the chain of economy hotels that Taittinger owns.  There is a possibility that the champagne part of the company will be sold back to a French company.  Stay tuned . . . .
We dined at La Petite Ferme last night at 8:30 (32 rue Fremicourt, Telephone 01-53-69-01-09).  It is such a good value – a three course fixed price dinner for only 18 euros, and the wine is reasonable, too.  The fare is hearty, country-style food – too copious for me to finish everything on the plate.  We were almost finished with dessert when what was to be a group of 7 young people turned suddenly into a group of 18 at 10PM.  Instead of lingering, we left so they'd have enough room.  They were having a great time, and one of them was trying in vain to get his friends to be quieter.  An older couple who are friends of the chef were not amused at all with their noise and conviviality.  But we were.  There was another table of 5 young men who also came in to dine fairly late.  It is great to see so many 20-somethings interested in eating "correctly" at a proper French restaurant.  I'd say the future France will be in good hands, and will remain very French, no matter how much change they must endure in the meantime.