<![if !vml]>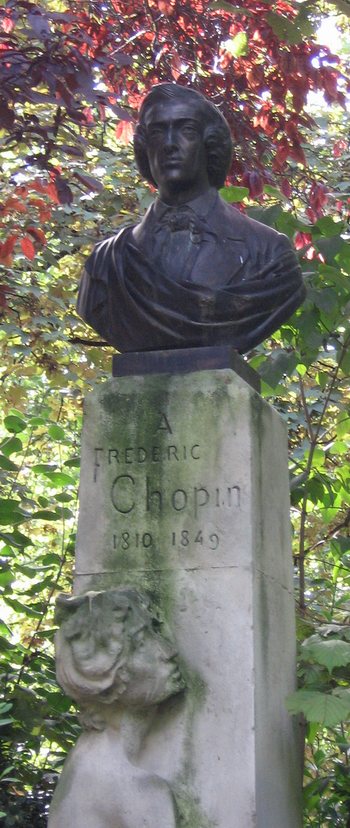 <![endif]>
Bust of Fréderic Chopin, in the Luxembourg Gardens.
<![if !vml]>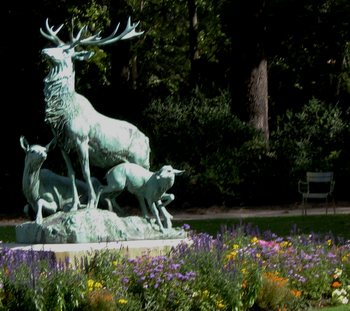 <![endif]>
"Harde de cerfs ecoutant le rapproche," a bronze sculpture by Arthur Leduc (1886), who specialized in works featuring wild animals.  In the Luxembourg gardens, of course.
We've had a long day today, starting with a grand tour of the Luxembourg Palace.  This weekend, as part of the "Journées Européennes du Patrimoine" (European Patrimony Days, or European Historic Preservation Appreciation Days), the Senate opened the wonderful palace to the public.  There was no admission charge.  We each were given a very nice guidebook and map of the palace floorplan, with our route clearly delineated in red. 
It was fabulous.  If you ever have the chance to see this magnificent building, do it.  The decoration in some of the grandest rooms will overwhelm you.
At the end, I picked up a free brochure written in excellent English, explaining just exactly how the French Senate works.  This Senate's composition and function are somewhat different from the U.S. Senate – surprisingly so.
We tried to squeeze in a quick visit to the greenhouses in the Luxembourg Gardens, which are also rarely open, but the line to enter was too long and we did not want to miss the organ recital at Saint Sulpice.  So we scurried back through the gardens to the church, and heard a splendid recital by François Espinasse, one of the regular organists from Saint Severin.  We heard the Deuxieme Choral by César Franck, Prelude opus 3 no. 2 transcribed for organ by Louis Vierne, by Serge Rachmaninov, Clair de Lune and Toccata, extracts from Pieces de Fantaisie, by Louis Vierne, and the magnificent Symphonie-Passion opus 23, by Marcel Dupré. 
We've been listening to classical music here, in part to block out a bit of background noise from the neighbor below (his television), or the neighbor above (a young woman who clomps around her apartment in her shoes, sounding very much like a horse), or the Thai music drifting in from the fair on the Place Saint Sulpice.  But this is nothing like the noise we had to endure in the 15th, from traffic and from the reconstruction of the street. 
The minidisks with the classical music are wonderful, but we are really jazz people.  So today I found the jazz station at 89.9 on the FM dial.  You can listen to it, too, by clicking here.  We feel a bit more like ourselves now, listening to our kind of music.
On our walk yesterday, we visited more of the shops on rue Jacob as well as the Saint-Germain des Prés church.  I read again with horror about the 300 and some people massacred and piled up in front of that church one sad day in 1792.  Much of what one sees in the nave dates back to the 11th Century. 
<![if !vml]>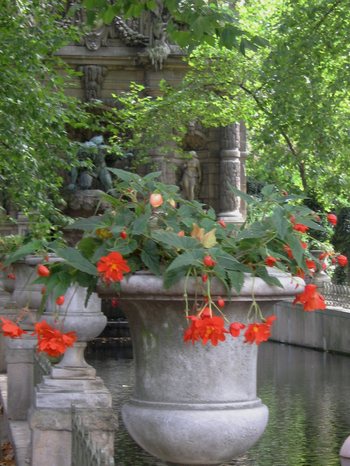 <![endif]>
Flowers in front of the Medici Fountain, in the Luxembourg Gardens.