<![if !vml]>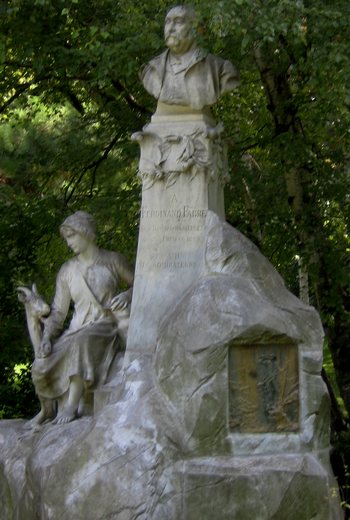 <![endif]>
Statue of the French writer, Ferdinand Fabre, by Laurent Honoré Marqueste (1903) in the Luxembourg Gardens.
<![if !vml]>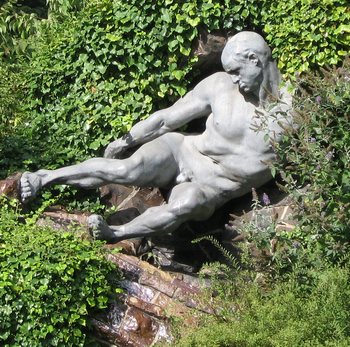 <![endif]>
"L'Effort," by Pierre Roche (1898), was originially to be installed in a fountain.  It is inspired by one of 12 feats by Hercules:  The turning of rocks in the river Alphee to wash the stables of King Augias.  Its originality resides in the use of materials:  Reinforced lead for the statue and ceramic stoneware for the rocks.  This statue is in the northwest part of the Luxembourg Gardens.
Yesterday we spent the entire day at the Twenty-third Bienniale Antiques Exhibition at the Grand Palais.  It cost 15 euros each to attend, but it was worth it.  This international show is no ordinary antiques show.  Many, if not more than half, of the pieces are museum quality.  There were 102 booths, and almost half of them contained paintings.  There were many original works by Renoir, Picasso, Miro, Degas, Delacroix, Pissaro, Corot, Max Ernst, Andy Warhol, and one single Sargent, and much more.  There were real Asian antiquities (about which we know something), and plenty of African art (about which we know nothing).  Of course there was beautiful 18th century European furniture.  The prices were staggering. 
Often, the provenance is provided on the cards that explain each piece.  Sometimes the provenance made me sad.  For example, there was an enormous, larger-than-life 18th century painting of the Montebello family.  It is a treasure that should have stayed with the family.  The provenance shows it passing through three generations of Montebello's before being left in the hands of a sister-in-law, who evidently sold it or is selling it.  What a shame.
And then there was a large set of upholstered, gilt-framed, 18th century chairs and sofas that had been in a chateau under the ownership of just two aristocratic families.  It is a beautiful collection.  And now, after many generations, it is out of the chateau and up for sale. 
There was one 1915 painting by Giorgio de Chirico called "Oreste e Pilade."  The price?  A cool $8.5 million.
We were a bit surprised that there were no Oriental rug dealers at all.  There were a couple very old Aubusson rugs that were made to look like Turkish rugs, but that was all.  And we did not see any people in traditional Muslim attire at the show.  That, too, seemed strange.  I don't think that the omission of Oriental rugs was accidental, and I'm sad to think that the organizers of the show might be a bit racist.
How could there be so many wonderful, decorative objects from all over the world, but no antique Oriental carpets?  Very odd.
But the show was so full of wonderful, beautiful things that I felt overwhelmed at the end of the day.  We had walked over to the Grand Palais, were on our feet for 5 or 6 hours, and we walked home.  So we were pretty tired.
Nevertheless, we made it out to dinner again at l'Espadon Bleu, and once again Jacques Cagna came to our table for a brief chat.  He remembered us from last week.  So did the maitre d', who recalled that we prefer to have the menu in French and to speak in French, and he remembered what we like to drink.
A few nights ago, we had a not so pleasant dinner at an old standby resto, Bistrot Aux Charpentiers, on rue Mabillon.  This entire neighborhood north of us is full of restaurants that are full of people.  We've concluded that they no longer have to be good to make money.  People seem to come anyway, and the restaurants pack them in tightly, then serve mediocre food.
It is better to venture out just a little bit, to a place like L'Espadon Bleu or to a reliable and good brasserie like Le Pré aux Clercs, where we've now had two excellent lunches and one excellent dinner.