<![if !vml]>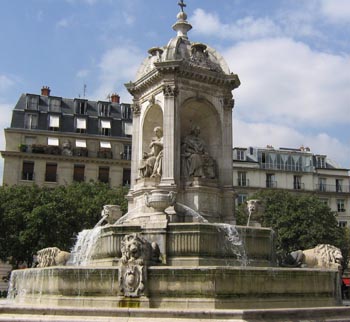 <![endif]>
In our "front yard," the Place Saint Sulpice, is a fountain named for four bishops.  Each of the bishops has a statue of himself on one side of the fountain.  I especially like the big cats.
<![if !vml]>
<![endif]>
The entrance to Mis en Demeure, and elegant but not outrageously expensive home furnishing and décor store.
<![if !vml]>
<![endif]>
The very, very famous (especially after Dan Brown's totally fictitious Da Vinci Code) is in our "front yard."
<![if !vml]>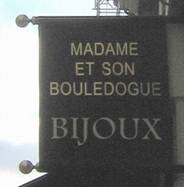 <![endif]>
Around the corner from Mis en Demeure is a jewelry shop called Madam and her Bulldog.  We've been intrigued a number of occasions with this French spelling of bulldog.  Bulldogs seem to be popular here.
We've been having a very good time walking all around the greater neighborhood here in the 6th arrondissement.  There are some fantastically lively streets packed with restaurants just to the north of the Place Saint Sulpice.  We ate in one of them last night, La Boussole (12 rue Guisarde, tel. 01 56 24 82 20) and it was very good.  We shared a ravioli appetizer that was delightful and spicy.  It was not in a tomato sauce, but rather in a white creamy sauce that packed more flavor than French sauces normally do.  Tom had a lamb chop in one of those good, grainy mustard sauces, and I had a tender-as-can-be filet mignon de porc in a mild, spinach sauce.  The garniture, a purrée of potatos, was homemade, and quite good.  The chairs are uncomfortable, however. 
We noted that the bulk of the restaurant, toward the back, was designated as the smoking area.  The front room, where we were seated, is the nonsmoking area.  Of course the nonsmoking area filled up first.  Why don't they designate smaller areas for smoking?  It is clear that the demand for nonsmoking is greater.
There are a number of wonderful furniture and décor stores near us.  We've been wandering through them on our walks.
One of them, Mis en Demeure, has a web site that you have to log onto at www.misendemeure.com .  The card we picked up in this lovely store says the username/identifiant is ihtneutre and the password/mot de passe is versailles.  But that doesn't seem to work.  Just click on the little French flag and then browse the site at your will.  We found this store to be very interesting, not too overpriced, and big (once you realize there are two upper floors to explore).  It is located at 27 rue du Cherche-Midi.
Another such store that we enjoyed was Maison de Famille, at 29 rue Saint Sulpice.  Not so much for furniture here, but for other decorative items.  Cool stuff.
Another store for cool stuff of a more mundane but useful sort is Muji.  Actually it is two stores, both located on the rue Saint Sulpice.  Everything in the place is made in Japan, I think.  We are going to buy some wooden blocks that resemble buildings and landmarks in Paris – something for our grandchildren to play with at holiday time.
Remember the photo of the soldiers riding horses and playing band instruments through the streets of the Marais?  Well, it seems that these gendarmes don't clean up after the horses, and one of the elected officials here by the name of Yves Contassot is very angry about their slovenliness.  He is now threatening to fine them!  They are the highly regarded Republican Guard, the gendarmes that everyone seems to respect!  Yves says they can hang a sack on the rear end of each horse to collect the you-know-what.   But General Christian Poupeau (no, I didn't make up that name) who commands the Guard, says that to do such a thing to a horse would be traumatizing for the animal.  To which Yves responds, "But many cities have adopted this!  Perhaps the rumps of the horses of the Republican Guard don't work in the same manner as the other European horses?"
Yes, and dog shit is still a problem on the streets of Paris.  The fines instituted several years ago did help some, but I expected to see continued improvement every year.  That hasn't happened. 
Well, it finally happened.  I have walked so many hundreds of miles in Paris in my favorite Naturalizer sandals during this summer and last summer, that they finally gave out.  Both shoes (one shown below) split all the way through their very thick soles.
<![if !vml]>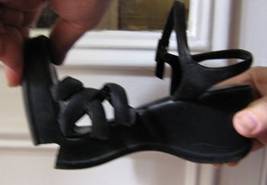 <![endif]>
But I don't hold it against Naturalizer.  These were attractive, fun, and comfortable shoes to wear all over Paris.  Walking for endless hours on cobblestones by the Seine is a punishing treatment for any kind of shoe, much less a platform sandal.