<![if !vml]>

<![endif]>
Trompe l'œil on rue de Vaugirard.
<![if !vml]>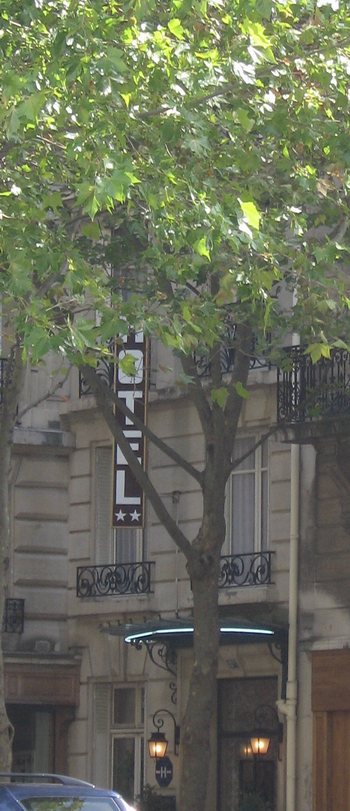 <![endif]>
Bertrand, day manager of the Hotel Récamier which is located around the corner from us, right next to Saint Sulpice, was extraordinarily nice and helpful to us on the rainy day when we could not get into our building.
We had an absolutely perfect dinner two nights ago at l'Espadon Bleu, 25 rue des Grands Augustins, 76006, Tel. 01-46-33-00-85.  This is one of three restos owned by the famous Jacques Cagna.  His nephew manages it.  Don't miss it.
Last Sunday, we were on one of our long walks along the banks of the Seine when we arrived at a point not too far west of the Ile de la Cité, where Notre Dame is located.  Three large gendarmes way ahead of us motioned to us to move up to the street level.  They were not allowing anyone to walk along the water's edge there.  So we went up the steps to the street level and eventually found a nice café in which to have some lunch.
I think that was the day we went to the brasserie called Nesle, named for the rue de Nesle where it is located.  We had very good croque monsieurs on Poilane bread for 8.50 each.  Lo and behold a couple of Floridians from Sarasota sat next to us.  After our lunch was over, theirs was just beginning, we had a nice, brief conversation.  They are among those Americans who visit Paris and have a good time without knowing any French at all.
We reasoned that by that time (2PM), the demonstration or whatever it was that caused the gendarmes to send us up to the street would be over, and we could continue our walk. 
Indeed, the gendarmes had moved, but they were still blocking the way and they sent us back up to the street somewhere just before the Pont au Double, which supports the road that runs immediately in front of Notre Dame.  Something very big was happening on the Parvis in front of Notre Dame, that's for sure.  I felt sorry for the owners of the Six Huit floating café, because they lost all of their lunch business for the day.  The cops would not let their customers have access.  (It is a great spot to stop for a drink and look up at the magnificent church, by the way.)
On the Quai du Montebello, the sidewalk was jammed with people.  We looked across at the crowd in front of the grand church.  I asked a very approachable-looking young cop if it was a demonstration.  He smiled and said, no, not a demonstration, but an "inaugeration."
Indeed, what they were doing is re-naming and re-dedicating the Parvis so that it is now named after the deceased Pope Jean Paul.  The event was very controlled, by invitation only.  They were stopping people from walking along the bank of the Seine opposite the event so that nobody could sneak up onto the Pont au Double, which was in part the scene of the ceremony.
Indeed, I was right, too, because there were plenty of demonstrators who showed up and crashed the inaugeration, according to the local papers the next day.  Lots of people are ticked off that the Parvis is being named for a Pope who opposed women's rights, gay marriage, use of condoms, etc.
We continued our walk, dropping back down to the banks of the Seine once we were past the fray.
Yesterday, while Tom and I were taking a newspaper-reading break in between long walks, we had one of the kitchen windows open because it was very warm.  These windows are very, very high up on the wall – we cannot see directly out of them without a tall ladder.  They open with chains that are attached to the window latches.
Suddenly, the quiet was pierced by an organ blast.  That's right, there seemed to be a pipe organ in the kitchen.  It was silent again.  Then, after a while, an organist was playing at the unseen console again, a few bars here and there, familiar hymns that I vaguely recognized.
Then I remembered.  One of the two young men who have businesses on either side of our building – the young men who were concerned for us the day when we moved and we could not get into the building because the digicode's electric circuit had been turned off – had been carrying boxes of things from one storefront into the next storefront.  Neither storefront has a sign, but he clearly works in both of them.  He was the one who had offered to let us put our suitcases inside his place to get them farther out of the rain.
We had not taken him up on his offer because we wanted to remain right by the door, suitcases at our sides, in case someone exited.  But we remember his kindness, and we greet him whenever we see him outside using his mobile phone or climbing onto his "moto."
Hearing the organ, I realized that the things he had been carting about in the boxes were bits and pieces used to make the organ pipes work.  Wooden strips, hinges, leather bellows, lots of mechanical widgets.  These were a familiar sight to me because I used to know a couple guys who lived in my neighborhood in Columbus, but who traveled the world restoring great pipe organs.  They had a Victorian house with a double parlor, so they used the front parlor for a pipe organ.  It was utterly filled with ranks of pipes.  The console was in the dining room.  When they played it, the whole house vibrated with the sound.
I had received detailed tours of their home and business, so I know what the bits and pieces of organ pipe ranks look like.
So, we live next to the workplace of a young, intelligent-looking guy who restores pipe organs, I think.  He is, of course, located right around the corner from one of the great organs, that of Saint Sulpice.  I wonder if he works on it???
<![if !vml]>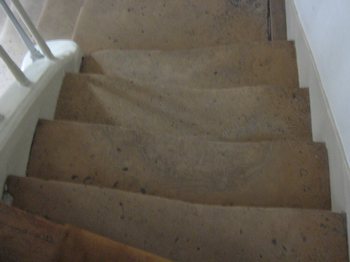 <![endif]>
The building where we are staying is very old – circa 1650.  Hence, the stone steps up to our first floor (second floor, in American) flat are very, very worn  -- so worn that they are concave in the middle.  One must pay close attention when taking these steps!  It is sort of like being in a fun house at the fair, where everything is distorted.